MCANJ 2018 Conference:Exhibitor Opportunities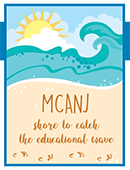 Exhibitor Opportunities
Municipal Clerks' Association of New Jersey
Annual Education Conference
"Shore to Catch the Educational Wave"
May 2, 2018 - Caesars Casino Palace in Atlantic City
---
The Municipal Clerks' Association of New Jersey will hold its Annual Education Conference on May 2 through 4, 2018, at Caesars Casino Palace in Atlantic City. We invite you to join us as an exhibitor on May 2nd.
The benefits of participation include:
Exposure to municipal clerks from across the state
Access to decision makers who can determine whether a product or service is right for their community
Network with municipal clerks to build new relationships and generate interest
Build business and strengthen ties with current clients
Promote products and services that can assist municipalities with current and future needs
There are two different Exhibitor package options available this year.
| Cost | Exhibitor Type | 20 Minute Presentation to Attendees at Breakout Session | Exhibitor Table | Exhibitor ID Badge | (2) Meal Tickets | Ad on MCANJ Website | Listing in MCANJ Program |
| --- | --- | --- | --- | --- | --- | --- | --- |
| $1200 | Corporate Exhibitor (Limit 3) | X | X | X | X | *X | X |
| $600 | Exhibitor | | X | X | X | X | X |
*Priority Ad Placement
The first three Information Technology Corporate Exhibitors who register and submit payment will have the opportunity to address conference attendees during a breakout session for 20 minutes regarding their products or services on May 2nd; and Exhibitor Ads will be placed on the MCANJ website, prior to, during, and after the conference for a period of up to 6 months.
Exhibitors can set up on Tuesday, May 1st, between 3:00 p.m. and 6:00 p.m. and breakdown on Wednesday, May 2nd between 7:00 p.m. and 8:00 p.m. Meals will be served in the same room where Exhibitors are located to maximize exposure. Each Exhibitor will have one 6' X 30" skirted table, two chairs and electric. A full service audio visual staff is on site, free high-speed wireless internet access is provided. Security will be provided when the room is not open. The conference schedule will include dedicated time for participants to visit the exhibits.
We are asking each exhibitor to provide a door prize to be awarded to an attendee who submits their bingo type card fully marked by each Exhibitor. (For new Exhibitors: each attendee receives a bingo type card and each Exhibitor receives a number. When an attendee visits your booth, you mark your number on their card. We put this procedure in place to help steer conference attendees to exhibitor booths.)
MCANJ has reserved blocks of room at the Caesars Casino Palace in Atlantic City – (Last Day to Book 4/6/18) at the special rate of $89 per night. Online Bookings Click Here, or call 888-516-2215. Group Code: SC05MC8
Exhibitors are welcome to attend all education sessions and can gain entry with their Exhibitor's Badge; however, if you want to obtain CEU's you will need to register for the conference and obtain a barcoded Badge. Attendee Registration opens on February 21, 2018 and will be accessible from the homepage of our website: www.njclerks.org.